Borough:
Contact Name:
Greater Manchester Chamber of Commerce
Contact Email:
events@gmchamber.co.uk
Contact Telephone:
0161 393 4321
Location:
TBC

Join us for our second Leader's Network Lunch of 2024.
Our regular Leaders' Lunches bring together business leaders from all sectors. Taking place at our esteemed Elliot House venue, delegates will enjoy two-course lunch with a glass of wine/soft drink and coffee, in the company of various other directors from across the North West. An influential guest speaker will share their valuable experiences and key insights.
There will be plenty of networking time as well during the welcome reception, during lunch and after.
Our guest speaker for April will be Jack Nolan is one of UK's Motivational Mental Health lived experience speakers.
Jack is a 3x published Dyslexic Authors, and he currently has a feature film in development. Surviving two mental health breakdowns and being diagnosed with Bi-Polar, Jack bounced back, turning his negative circumstances into an opportunity to bring value to people's lives.
At the age of 19 Jack was sectioned under the 'Mental Health Act' for showing symptoms of Psychosis. He had to drop out of university and sacrifice the creative career he was building in TV/Film Production alongside his studies.
After 19 days Jack was discharged from hospital. The recovery was long.  Getting himself washed and dressed was a mammoth task and facing the outside world at that point was an unbearable thought.  He had to bounce back and give himself a purpose for carrying on and moving forward with his life - this led to writing his first novel.  After 2 years of rejection from publishers he eventually landed the contract he deserved, and he was soon on the shelf of Waterstones.
After 2 years of re-building his life, Jack started to become unwell again, this time showing symptoms of mania and paranoia at the age of 22. He was sadly sectioned for the second time and, after 30 days in hospital, was discharged and had to yet again rebuild his life.
Jack Nolan is now 27 and has published 3 novels.  He has also created a series of positive and inspirational reads, You Can Become Playbooks; and has a feature film in development. He is a renowned public speaker, and we urge you to take this opportunity to hear him.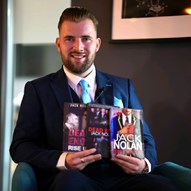 To book please register below.
Please note that GMCC does not accept payment via American Express.
**Please note: There may be photographs taken at our events that will be used for marketing purposes and on our social media channels. If you do not wish to appear in any of our marketing materials or on our social media channels, please inform a member of the Chamber team at the start of the event. 
Registration deadline:
24/04/2024
PRICE:
NON MEMBERS
£60.00
Excluding VAT
MEMBERS
£39.00
Excluding VAT