ATA Carnets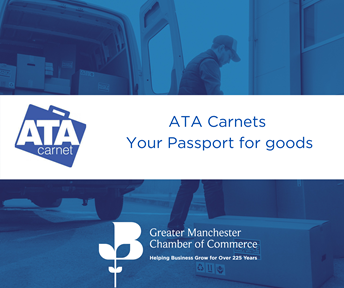 The ATA Carnet is an international Customs document which allows the temporary export/importation of commercial samples, professional equipment or goods going to either a trade fair or exhibition, or to deliver a service in countries which are part of the ATA Carnet system. Please refer to our ATA Carnet Help and FAQs for a list of countries.
Without an ATA Carnet it would be necessary to go through each country's customs procedures for the temporary admission of goods e.g. lodging a temporary import bond. The ATA Carnet simplifies the custom formalities by allowing a single document to be used for clearing goods through customs in the countries that are part of the ATA Carnet system. 
An ATA Carnet is valid for one year and allows for movement of the goods shown on the Carnet as many times as required during the 12 months to any of the destinations applied for.
Greater Manchester Chamber is an authorised agent to issue ATA Carnets and our team has more than 30+ years of experience.
Unsure if ATA Carnets is the right customs document for your temporary export?
Let us give you some examples of companies who we have worked with or may need it*:
Manufacturing and Engineering Companies delivering services overseas for which they require engineers/technical staff to take special hand tools, machines, computer equipment or other

TV/Media companies when taking specialised filming equipment or other

Music Entertaining companies taking music equipment and other

Companies participating in international exhibitions:   Display stands, specialised furniture, marketing material, and goods.   

Universities or Research centres taking specialised research and/or science equipment, computer equipment

Universities or other education centres taking laptops or other for the purpose of delivering training course or research projects.

Sport Teams taking specialising sporting equipment for overseas competitions or other.

Individuals taking special photography or sports equipment
*Some exemptions may apply. 
There are two factors that determine the cost of issuing a Carnet:
Standard Price:   £150+VAT  

Express Service:   £200+VAT

Extra vouchers:  £20 (set of 4)
The ATA Carnet provides a guarantee to the Customs of a foreign country into which the goods are temporarily imported that all duties, taxes etc. will be paid to them if the conditions under which they allow these into the country are breached. The Greater Manchester Chamber must receive an equivalent security from the Carnet user. This security must be for an amount equal to the highest rate of duty and taxes applicable to the goods in any country of destination, and transit if applicable. It will disregard any preferential tariffs that may be in force at the time because Customs authorities may themselves ignore such preferential rates. The security, to the nearest pound, is determined by the ATA Carnet Security Rate Chart and must be given in one of the following ways: 
Banker's draft or cash

Bank Guarantee. Banks that we can currently accept guarantees from are: Bank of Scotland plc, Barclays Bank plc, HSBC Bank plc, Lloyds Bank plc, TSB Bank plc, Santander UK plc, Standard Chartered Bank, The Royal Bank of Scotland plc

Carnet Security Scheme (CSS) Guarantee - an in-house service allowing the Carnet user to arrange for the security to be provided without having to supply either Banker's Draft, cash or Bank Guarantee. Using CSS, a non-refundable, one off payment means we can provide you with a 'While You Wait' processing service and there is no 'freezing' of assets or funds. 
How do I apply for an ATA Carnet?
Existing Customers, log into your ecert account

New Customers, please click here  to complete the simple registration process.
Our system will allow you to complete and apply for the ATA Carnet application, and obtain quotes on costs.  Once issued, the carnet can either be posted to you or it can be collected from the issuing office. If you prefer to apply manually application forms can be requested from us via email exportdocs@gmchamber.co.uk