eCERT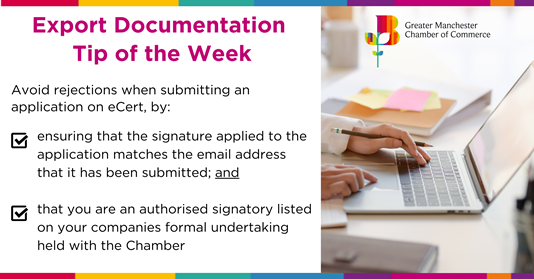 ECert is a service offering by GM Chamber which enables exporters to obtain certain certificates online. It can be used to obtain UK and Arab British Certificates of Origin and EUR1s.
eCert is also used to certify other commercial documents such as commercial invoices and packing lists just to mention but a few. eCert is approved by the British Chambers of Commerce as being compliant with regulations and data security requirements.
The eCert system has 2 submission options:
Express Applications are approved by the Chamber online within hours of submission. This enables the exporter to print certified/validated documents at their own premises,  saving you time and money sending/receiving applications by post.

Standard Applications can be applied for which the Chamber will then print out. These can either be posted out to you or collected from the offices.
If you are unsure how to apply for documents via eCert, there are some online tutorials available here or alternatively you can speak to a member of the team.