Author:
Greater Manchester Chamber of Commerce
Company:
Greater Manchester Chamber of Commerce
Austria is considered among the wealthiest and most innovative countries in Europe, supported by one of the world's most stable banking systems. The country is renowned for its dynamic business location and is outstanding for quality life, modern infrastructure, high-level technologies, well trained experts, and political stability.

Austria is a landlocked country in central Europe. Its location makes it ideal for accessing the European markets considering that it shares borders with Czech Republic, Germany, Hungary, Italy, Liechtenstein, Slovakia, Slovenia, and Switzerland; with the option to reach any place in Europe by air in three hours.

With a real GDP higher than Germany, Austria is the 13th largest economy in the EU and 27th on the 2020's Ease of Doing Business index.
A favourable tax regime encourages many international investors who can benefit from high-quality products and services, and which make the Austrian market one of the most promising for UK businesses.
If we focus on exports, data from the International Trade Centre showed the UK ranked 12th in terms of supplying market of goods to Austria in 2020, and the 5th non-EU country behind Switzerland, China, USA, and Viet Nam (see below graphic).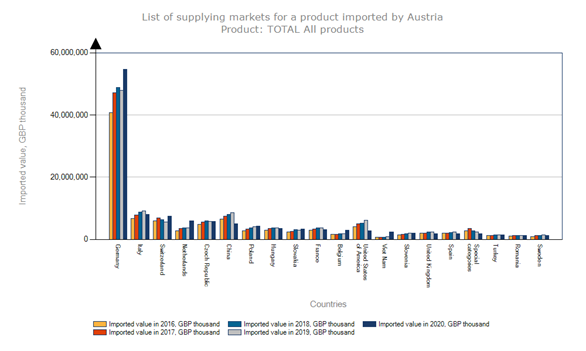 If we exclude 2020 from being a reference year for reasons we know, UK exports to Austria have been increasing steadily. The export of goods in 2016 amounted to 1,801,485 million, increased to 1,868,278 in 2019. And the same goes for services, where there is growth of 29% for the same period. The top three regional contributors to the Total UK exports in 2020 were the East (20.00%), followed by South West (12.00%) and the South East (10.00%).
The Northwest Region ranks 5th in terms of the export value contribution having exported £205m in 2019, and the leading exporters are: Greater Manchester (£53m), followed by Merseyside (£52m), Cheshire (£46m) Lancashire (£36m), and Cumbria (£14m).
Despite a general growth in terms of export of goods in the Greater Manchester, Merseyside, Lancashire e Cumbria areas (odds of 100% for the latter) the Northwest shows a contraction between 2016 and 2019 of 6% (HMRC/ONS), with the largest decline experienced by Cheshire (-47%).
According to the data from the International Trade Centre, there are still over USD$1.4bn on untapped export potential for British companies in Austria. The export sectors with the largest export growth margin are the followings:
Machinery and Electricity - US$204.3m
Motor vehicles & parts - US$204.3m
Pharmaceutical components $162.6m
Chemicals - US$94.9m
Optical products, watches & medical instruments US$88.0m
On the DIT's export opportunities website there are over 308 live opportunities for the above sectors. This provides an excellent opportunity for North West business to take advantage of the prospects Austria has to offer.
Need help trading with Austria? We can help!
27th May - Austria and Vienna: A Gateway to Europe Free Webinar - If you want to find more about business opportunities including why setting up operations in Austria will aid your business in accessing other EU and Central & Eastern European countries, please join us on this event.  We will have speakers from DIT, Invest in Austria (ABA) and the Chamber.
Market Research & Entry Services? The Chamber is also well positioned to help you in your efforts to enter this market whether you are seeking to export, import or invest.   From market research and identifying potential partners, our Market Entry Services can aid your efforts.