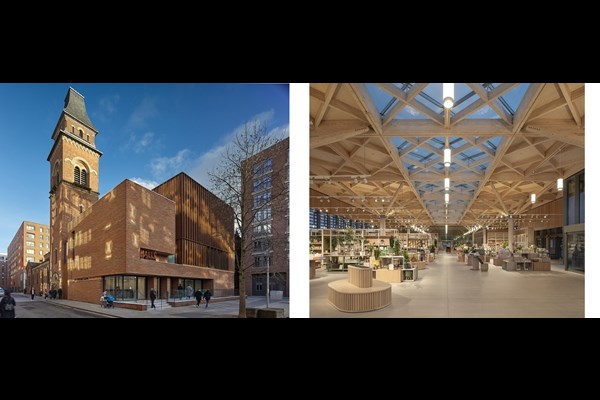 Author:
Greater Manchester Chamber of Commerce
Company:
Greater Manchester Chamber of Commerce
Greater Manchester Chamber Property and Construction Awards Dinner was a double celebration as it crowned the winners of both the Greater Manchester Building of the Year Award 2020 and 2021.
The Oglesby Centre at Hallé St. Peter's (pictured left) was named the winning building for 2020 and the winner for 2021 was RHS Garden Bridgewater (pictured right) 
Diane Elebert-Morgan, Property & Construction Group Manager at Greater Manchester Chamber, said: "Due to Covid we weren't able to hold awards dinners in 2020 and 2021, so this event was an extra special occasion for us.
"We had an impressive list of buildings on the shortlist for both years, which shows how vibrant and talented the construction sector is in Greater Manchester.
"We were not only celebrating the winning buildings but also the resilience of the sector over the past two difficult years. We can hopefully now look forward to a brighter future as the economy starts to recover from the pandemic and we see progress on the many great developments that are being planned for the city centre and across Greater Manchester."
The Oglesby Centre, which is an extension of Hallé St Peter's, is a high quality, high performing building, sympathetic to the existing Grade II listed former church but bold enough to excite and inspire on its own merits. The centre was named in tribute to the support, advice and inspiration of Michael and Jean Oglesby and The Oglesby Charitable Trust.
RHS Garden Bridgewater is the fifth RHS garden and one of the largest gardening projects undertaken in Europe in recent years. The new world class visitor centre, known as the Welcome Building, provides a gateway to the gardens as well as a visitor meeting and interaction point, restaurant, gift shop, offices and educational spaces.
The awards dinner, which was held at Victoria Warehouse on 3rd March, was sponsored by Dyer Environmental Controls and hosted by Roger Johnson, presenter of the BBC's North West Tonight programme.