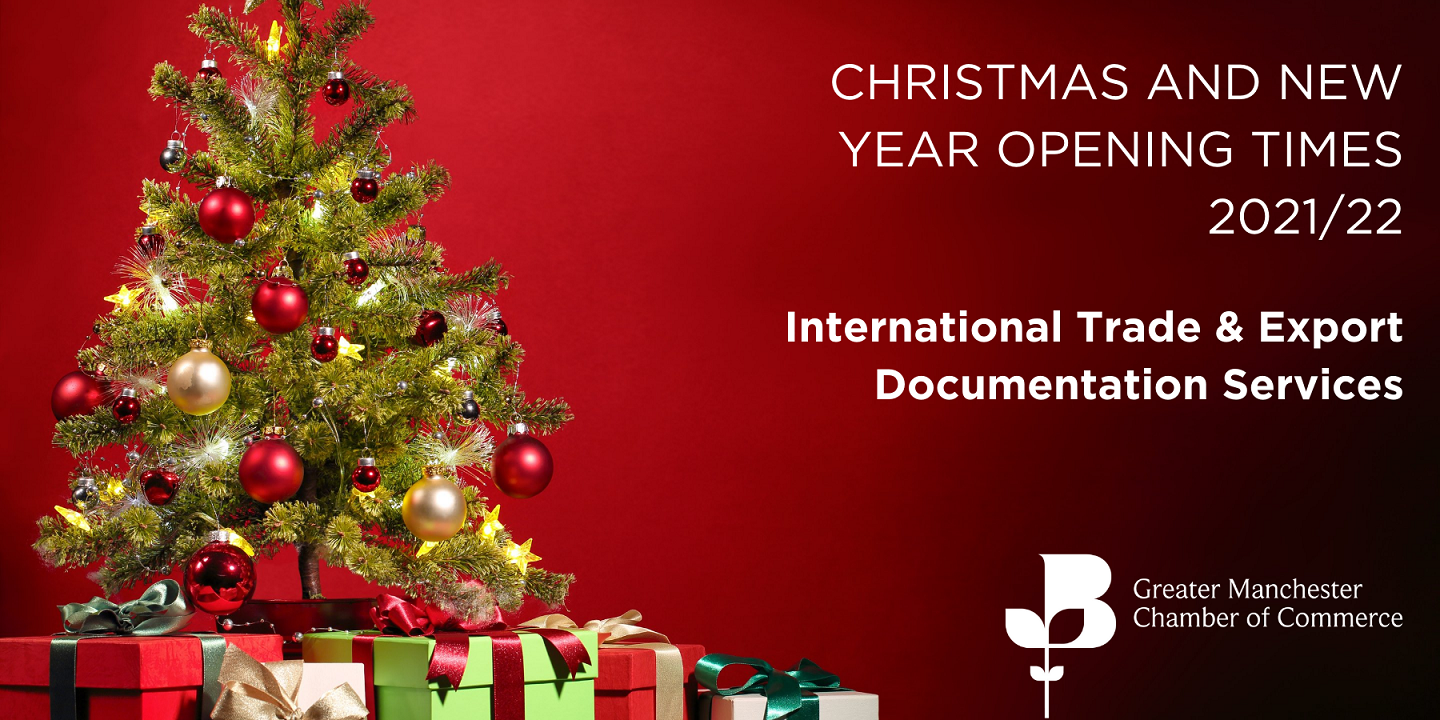 Author:
Greater Manchester Chamber of Commerce
Company:
Greater Manchester Chamber of Commerce
Please note our Trade Team's opening times during Christmas and New Year. We urge traders to plan accordingly so our team is able to help during this time:
From 3rd December till 12th December 2021, our Elliot House Offices will be closed.   All of our services will remain operational during these time, either remotely or via the Airport Office.
For the rest of the month, please observe opening times:
Certification, Legalisation & Apostille Services (e.g. CoOs, ATA Carnets, etc) Opening Times
17th December - 10am -12.30pm
23rd December - 10-1 pm and 2-4 pm
24th December - 29th December - closed
30th December - 10-1 pm and 2-4 pm (Airport office only)
4th January 2022 re-opens as normal
Important dates for Documentation Customers
22nd December
All documents which need to be sent to the Embassies / Foreign & Commonwealth Office must be with the Chamber. Please make sure you send your documents in plenty of time before this date if your documents are urgent, there will be no documents returned from embassies during the holiday period.
23rd December
Last day for collection of documents from our Deansgate and Airport office.
Both express and standard applications will be processed until 4pm this day.
Chamber Customs  - Customs Clearance & Transit Services
17th December- 9am-12.30pm
23rd December- 9am-5pm
24th December- closed until 29th December  
29th December- 9am-5pm (remote only)
30th December-9am-5pm (remote only)
31st December- 9am-12.30pm (remote only)
4th January 2022 re-opens as normal
General Export/ Import Support & Advice
17th December – 9am – 12:30pm
23rd December – 9am – 5pm
24th December  -  3rd January 2022 Closed
4th January 2022 re-opens as normal