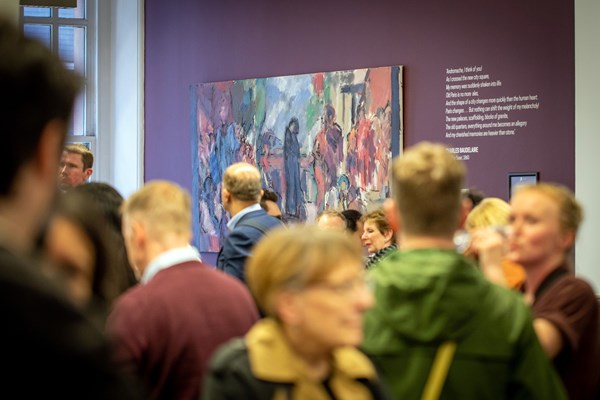 Author:
Greater Manchester Chamber of Commerce
Company:
Greater Manchester Chamber of Commerce
The worlds of art and business came together at the opening of the Ghislaine Howard Collection at Greater Manchester Chamber of Commerce. 
More than 160 people attended the event at the Chamber's Elliot House headquarters to view the work of the Glossop artist, whose powerful series of pictures of a Muslim man offering to hug passers-by as a show of trust in the aftermath of the attack on Manchester Arena gained national attention.
On display was a selection of Ghislaine's work, which she co-curated with her husband Michael Howard and the Creative Directors of Haigh Hall, acclaimed filmmakers and artists, Al and Al. Paintings were on show across three floors of the building and will continue as a permanent exhibition which will be open to the public.
Speaking at the opening of the exhibition, Ghislaine said: "My relationship with the Chamber began when it became a home for my 'Embracing Manchester' paintings. This is the next stage in that relationship. Our aim is to use art and culture to bring people back into the city centre and bring people back into the workplace."
Clive Memmott OBE, Chief Executive of Greater Manchester Chamber of Commerce, said: "When we first moved to Elliot House, I didn't want to have pictures of buildings but pictures that represented the people of Manchester. This is art that brings people together, showcasing human experiences and emotions.
"The ambition is to showcase top quality art, that is beautifully and thoughtfully displayed, in a working environment that members, guests and visitors can get really close to and interact with."
Thom Hetherington, Founder and CEO of Manchester Art Fair, who attended the opening of the exhibition, said: "It's amazing to see the scope and scale of the installation across multiple floors and rooms. It's rare for a city to work with such a credible artist at such a deep granular level."
You can view pictures of the exhibition opening here. The pictures were taken by Chris Foster Photography. 
Members of the public will be able to view the Ghislaine Howard Collection at Elliot House, 151 Deansgate, Manchester. The rooms on the first floor are open to visit, as is the space on the second floor. If not in use, the four rooms on the ground floor may also be visited. All the spaces in the Chamber are open to visitors on the last Friday of every month (excluding December) from 12pm to 5pm. There will also be the opportunity to purchase some of the paintings on display. In addition to the works already on show, there will be a changing group of works entitled '10 Boroughs/10 Paintings' which will highlight every part of Greater Manchester. Visit www.gmchamber.co.uk/exhibitions for more information.
Ghislaine was born in Eccles and studied Fine Art at Newcastle University. She lived in London and Paris before moving back to her native North West with her art historian husband and making their home in Glossop.   
Ghislaine is known as a powerful and expressive painter, whose work charts and interprets our shared experience. She was named Woman of the Year in 2008 for her contribution to art and society. She first came to public attention with her ground-breaking exhibition concerning pregnancy and birth, the first of its kind, at Manchester City Art Gallery. Entitled 'A Shared Experience', the exhibition attracted much critical acclaim.
Here's what some of those who attended the opening of the Ghislaine Howard Collection had to say.
Audrey Bramah: "What a truly wonderful evening was had at Ghislaine's art preview and what a super atmospheric and splendid Venue. Elliot House was exactly the venue for Ghislaine's superb collection.
"As a Mancunian (now living in the High Peak) I was delighted to enter a doorway I had passed many times. The staff and nibbles were excellent too.
"May I commend Elliot who greeted us with such courtesy and knowledge. Look forward to coming again. Thank you."
---
Hilary Salt: "I found looking at the paintings very emotional. I like her work very much and I'm so pleased I was able to come. It's not something I expected a Chamber of Commerce to put on and it's a very good idea."
---
Connor Collins: "As an artist, I'm very pleased to see the Chamber exhibiting work like this. There aren't many places where artists can display their work on such a scale. People say northerners don't buy art but that's not true - what we need is the space to display it."
---
Caroline Hallett: "I travelled from Sheffield to see the exhibition and I'm very glad I did. I find Ghislaine's work very inspiring as it shows how you can paint the human form."
---
Prudence Korda: "I'm so happy to have attended the opening. I got such a warm welcome and the atmosphere has been fantastic. I'd like to work in an office like this myself!"
---