Company:
Greater Manchester Chamber of Commerce
Simon Cronin talks to the couple providing unique gifts to help inspire couples and families to spend more time together.
Award-winning A Year of Dates is the brainchild of Bolton-based Kate and her husband John.
After a bumper Valentine's Day, which saw them receive record orders (203 in just one day) and a move to bigger premise, the couple are now dealing with the impact of the Coronavirus. Although orders have been hit by the outbreak, they are confident their business model can weather the storm.
Kate says: "We sell online so we don't have customers coming into our office and don't need to worry about coming into contact with anyone who is ill.
"Our orders have dropped dramatically, but we're hopeful that once people have stocked up on the essentials they will want to buy other things, particularly if they are going to have to stay at home for a long period of time.
"The advantage of our boxes is that they contain ideas of things that you can do at home as well as outdoor activities, so they can be used by couples and families who suddenly find themselves spending more time at home."
The idea for A Year of Dates was sparked by John and Kate's own experiences. Like many couples they found themselves falling into the same daily routine of going to work and spending the evening watching TV. Then in 2014 John gave Kate a jar filled with 72 envelopes containing date ideas. From this romantic present grew the idea of selling jars to other couples filled with suggestions for dates.
From that simple beginning the couple moved on to creating a range of boxes covering everything from date ideas for new parents to Fifty Things to Do When You're Fifty, as well as special occasions such as Valentine's Day and Mother's Day. Singletons are also included now with A Year of Dates Just for You, which is sold as 'little box of self-care' and there are also boxes containing ideas for things friends can do together and movie boxes. Boxes can be personalised and delivered the next day (if order is received before midday).
A Year of Dates has not only been a success in the UK but also in the US, which makes up 20% of its orders (1,000 units were shipped to the states in the last six months alone).
"America has been a good market for us," John explains, "Although we do sometimes get complaints that we haven't used the American spelling on the cards, so we have to make it clear that it's a British product!"
When the business first began, the couple did all the filling of the envelopes and packing of the boxes themselves. Today they have remote workers who help fill the envelopes for them at home, but they are still very much hands-on with the business and they are the only staff who work on-site.
At first, the couple stayed in their day jobs and used the spare room at home for storing the envelopes and boxes. Kate worked part-time for 16 months at a design company while building the business and then went full-time two years ago. They both now work full time on the business, working around their young daughter and turning their hand to all the different aspects of the business from social media and sales to printing and packing.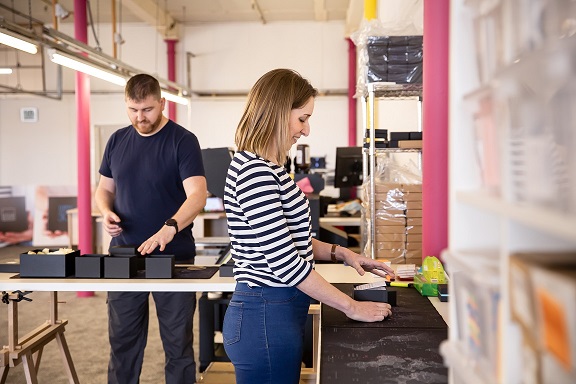 Despite spending all day together, they are clearly a great team with a real passion for their product.
John says: "We're best friends and we rarely argue. Our different skills sets also complement one another. Kate brings her graphic design experience and I come from an IT background, so we work very well together."
After trying to sell their goods at craft markets, the couple realised that the only way to drive up sales was online. They now get 70% of their orders through Not on The High Street, where their weekly date box was the best-selling product during the Valentine's period in 2019.
The couple's success in building online sales was recognised last year when A Year of Dates won the E Commerce Business of the Year Award in the regional heat of the Chamber Awards.
Although the economic outlook is ever more uncertain as the country copes with the restrictions put in place to deal with COVID-19, John and Kate are looking to the future. With their peak sales period of Christmas approaching they have recently taken on staff to cope with the uplift in orders and launched new festive products aimed at families spending more time together at home.
Chamber members can receive 15% off their order with a Year of Dates by using the discount code 'CHAMBER15'. Visit www.ayearofdates.co.uk to see the full range of products available.
Pictures by Eden Photography.