Company:
Greater Manchester Chamber of Commerce
In the first of a regular series of in-depth features, Simon Cronin looks at how Covid has led to a change in career for one Chamber member. 
After spending all his working life in the travel industry, the impact of the pandemic has led tourism expert John Harding (pictured right) to set out on a new venture in film and media. 
The change of career came about after chats with his friend Andy Lewis (pictured left), whom he first met at a cricket test match five years ago. With worldwide travel in the doldrums due to covid and Andy's broadcasting work drying up, the pair decided to collaborate on an idea for a new type of bespoke corporate communications film, which would deal with the issues faced by employers and employees as they emerge from a year of lockdowns, restrictions and homeworking.
Andy explains: "Just over a year ago I was working on a job at Media City and John had started one of his other businesses and we met at lunch times and he asked me if I knew any small companies that might want investment. At the time I was doing freelancing work in TV and it was kind of coming to a bit of end for a lot of people, because even before Covid work was drying up just naturally.
"We stayed in touch with each other. I had this idea in mind and I knew there were people out there who might want to invest and then lockdown hit and then nothing happened for anybody. Then we went walking for exercise from about June time and the conversation came back up again and I thought there's no reason why I couldn't do this myself. I've got nothing to lose!"
From there the idea of Northern Dragon Media was born with John agreeing to act as a consultant.
"The initial plan was to make corporate topical subject training films with a former colleague of ours," Andy says, "That never really transpired, but what we're doing at the minute is 'new normal' type training, but we want to do it on a bespoke level, high quality and professionally done.
"Another idea was to set up our own You Tube channel to make more modern, fun, documentary-type stuff. We're currently working with Bez from the Happy Mondays doing his fitness regime called 'Get Buzzing with Bez' (pictured below) and that's taken off massively. We've got half a million views already across that programme in three weeks, which for a new company is fantastic. So that's kind of a steppingstone into other interesting projects. Ideally, I want one half of the company to be making documentary-type material content and one half making corporate type material, so we're kind of doing both at the minute now, which is great.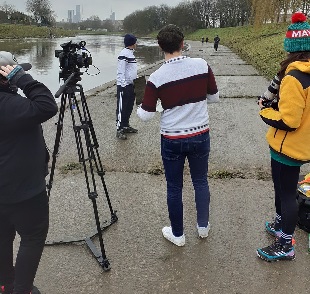 "We started in September as a proper company, so I've been working alongside John very directly, on a daily basis. John had originally only come in to help us out as a bit of adviser from time to time. As a mentor. But he's actually spending a lot of time with me because the situation in the travel industry has freed up a lot of time for John.
"We wouldn't have got to where we are now without John's help and input, because without him there I'd have had a couple of nervous breakdowns at least because it isn't easy as anybody will tell you and I've been working 20-hour days sometimes and it has been tough but we're getting somewhere now. We're getting to a stage where things are starting to develop a successful and respected business." Its great to actually be involved in a Covid-19 positive story.
The Corporate Communication Films  will be particularly aimed at employees and leaders dealing with the return to work after furlough or a long period of homeworking.
Andy explains: "We've got examples of people who have worked in companies for decades and they're frightened to death of going back now, because they don't think they're capable of doing the job to the same standard. Even just being intimidated by the systems they use.
"If you've been off for a year, it's difficult. Even just interacting with people. I know how difficult that is. Me and John try to meet up as often as we can for excercise, so that we can interact face to face with someone because it is hard. Having a Zoom meeting is no good to a lot of people. That personal feel about the office is what I love about work and I reckon most people are like that."
The Corporate Films will be tailored to each individual company's needs and produced to television standard. Teams will be encouraged to watch the videos "Team Talks" together and the productions will be backed up by a network of specialists, including a leading award-winning business psychologist and leadership trainer Martin Robert Hall.
Andy says: "The idea is that if we're going to be charging higher-end prices for high-end television standard films, we want to put the time and effort in. It's going to be bespoke for your company. It's going to be bespoke to your company and have an after care system in place to help people."
John adds: "There would then be a secondary plan where they can send clips to their employees. We're targeting the leaders initially to get them on board, find out what their concerns are and then prepare a series of bite-size chunks to send to their employees. Five minutes a week or something.
"We're aiming at the medium-sized to the larger organisations that both have the budget available for the sort of level we're looking at and the number of employees to make it worthwhile, but it can be for any sector. We don't want to be too focused on people returning to the office as people work in other places as well, such as outside on construction sites. It's not only about people buying this, but also contributing to it, partnering with it."
The pair will also be looking at issues facing employers, such as the need for covid risk assessments to make workplaces safe for returning workers. Another area they will be focusing on is how people can gain new skills and find new opportunities if their old jobs have been hit by the pandemic, which John has experienced first-hand. After thinking he would spend the rest of his career in the travel industry, working with Andy on Northern Dragon Media has made John re-assess his plans for the future.
John says: "I left the international travel industry in August 2019 with a passion to fulfil a lifelong ambition to promote incoming tourism to Manchester and the North West of England. I set up a business called Northern Welcome. I realise now I decided to do that because basically that's what I do. In your mind you think that's all you can do.
"Relatively late in my career, because of the impact of the pandemic on travel, I've had to adapt and go into something totally different. It's not too late for anybody to do something totally alien to what they've done all their career. What I've built up over the years is a fantastic network of people and at the end of the day a lot of it is who you know. Now because this new venture is exciting and taking off, I'm wondering if I actually want to go back to what I was doing before."
Nevertheless, John still has a great enthusiasm for promoting Manchester to visitors but thinks in future that will be channelled into making travel videos rather than just concentrating on organising trips for tourists.
Northern Dragon Media is actively seeking new clients, partners and investment funding, so if you would like to help or get involved, email john@johnharding-associates.com