Skills experts from Greater Manchester have just returned from a visit to Cordoba, Spain, as part of the "Growing Apprenticeship Partnerships for SMEs (SME GAP)" project, funded by the European Union's Erasmus+ programme.
The consortium, led locally by Manchester Metropolitan University Business School, includes the Amadeus Association, Austria (intermediary organisation of vocational education and training) and Diputacion Provincial de Cordoba, Spain (public regional authority). Small businesses all over Europe are less likely to employ and train an apprentice than larger companies. Together, the consortium will identify solutions to help SME businesses participate fully in apprenticeship programmes.
The purpose of the visit was to learn about vocational training models in the Province of Cordoba, share best practice and develop a common approach to encourage more small and medium sized businesses to take on apprentices. The UK team was warmly welcomed by the President of the Provincial Government, at a formal reception held at the Palacio de la Merced. The launch event kick-started a busy agenda, which involved visits to employers, vocational schools, the Chamber of Commerce, local councils and the regional government.
As part of the visit, the Group attended an inspirational visit to IFAPA Felipe Solis, Cabra, an organic farming school (pictured below), whose role is to up-skill and re-energise the local farming community. The school encourages young people to enter sustainable employment in the agri-food sector. In Cordoba province, there is a real increase in the numbers of grandchildren going back to the smallholdings farmed by their grandparents, to start new businesses and grow quality products. From this visit, the UK Group is looking to replicate this model in food processing and manufacturing businesses in Greater Manchester.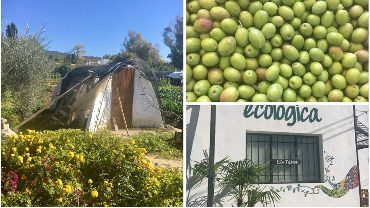 The Group met with the senior leadership team at Cordoba Chamber of Commerce (pictured below) to look at the new Spanish system of involving Chambers as an intermediary body to help place apprentices in businesses. Also present were skills leads from the Chamber of Commerce, Vienna and Greater Manchester. Through this project, the three Chambers of Commerce have agreed to work together to development an employer engagement strategy, looking at the benefits of businesses employing apprentices.
Joy Sewart, Head of Skills Development at Greater Manchester Chamber of Commerce, commented: "By working collaboratively, the Chambers of Commerce can learn from each other new and different ways of working with businesses to develop their workforce and invest in apprentices for the long term benefit of their organisation. This project has been fundamental in developing the way Chambers of Commerce interact with our business community."
At the end of the programme, the project team will produce a best practice guide for SMEs, a toolkit to help SMEs recruit apprentices and a set of policy documents to inform policy makers at regional, national and European level