Company:
Greater Manchester Chamber of Commerce
In the second of a regular series of in-depth features, Simon Cronin looks at the Wigan company that is leading the way in high-tech sustainable manufacturing.
Most of us will at some time have bought wet wipes or baby wipes without giving a second thought to where or how these household staples are made. In fact, many of the wipes we buy from leading High Street names are made right here in Greater Manchester at Nice-Pak's state-of-the-art factory in Wigan.
Nice-Pak produces a staggering 4 million baby wipes each week at its 400,000 sq ft plant. The factory was purpose-built on the edge of Wigan town centre at a cost of £45m and now employs over 200 people.
The company moved from its old factory in Hindley Green to the current site in 2016. The decision was taken to invest in the very latest technology to create a production line fit for the 21st Century.
Factory Manager, Chris Degenhart, who joined Nice-Pak in 2017, acknowledges that the move was a big step, which required a major financial commitment by the company and flexibility from its long-serving staff.
"At the old site, people were used to sitting together on the production line, so they had built up a close bond with those they worked with," he explains. "Moving to a more automated system was a big change and very different to what they were used to. But the staff embraced that change, adapted to the new machines and learned the new skills needed."
"As the pandemic hit the teams reacted fantastically, firstly to the new measures put in place to keep everyone safe but also their commitment to the business to ensure we delivered the demand for our products which are key to people's health at this time."
Degenhart says that in moving to the new site, the company did not want to lose the camaraderie that had been built up at the old factory. Visiting Nice-Pak today, it is clear that the community spirit is still strong, and nothing sums this up better than the in-house poet who regularly composes odes about events at work and beyond.
Last year, Nice-Pak's achievements and long-term commitment to Wigan were recognised when it won the 'Something to Shout About' Award at Wigan Business Awards.
Degenhart, who has spent his whole career in manufacturing, is passionate about Nice-Pak's products and UK manufacturing in general.
He says: "For UK manufacturing in general it is always a challenge to compete on price alone, but our customers have come to realise that quality and service are equally important factors in their appraisal of what makes a good supplier. We've had customers look abroad because they've been offered a lower price but they generally come back to us once the need for a balanced take on competitive pricing, high quality and outstanding service becomes obvious."
Everything from the texture of the wipe and the lotion it is treated with to the way it comes out of the packet can be tailored to the customer's requirements. Nice-Pak has achieved this by investing in the very latest machinery, giving it one of the most advanced factories in the country.
Touring Nice-Pak's production line gives a window into the future of British manufacturing. The factory is remarkably quiet given the huge amount of products it makes it each day. Even when you are right inside the building it is hard to believe that you are in a major factory.
The machines work seamlessly with new rolls of material slotting into place automatically as the old ones run out. Even the warehouse features radar-controlled forklift trucks which quietly bustle back and forth loading the finished products onto the shelves ready to be sent out to customers.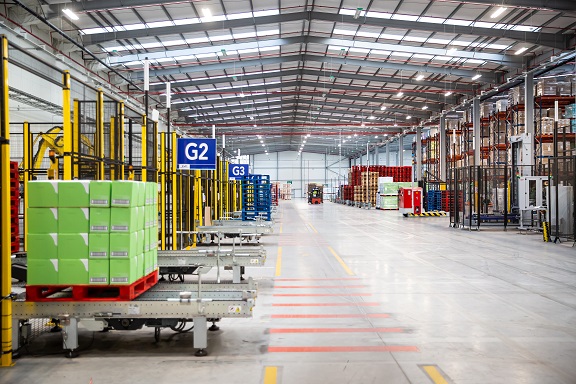 Despite the high-tech nature of the plant, human input is still key to the process, but the emphasis is now on ensuring the machines are running smoothly rather than making the product by hand.
Nice-Pak is an American-owned family firm which can trace its origins back to the early days of Kentucky Fried Chicken, when it provided hand wipes for the restaurant chain's diners. Since then Nice-Pak has branched out into all types of wipes with its main focus now being on baby, facial and household cleaning wipes. In addition to its Wigan factory, Nice-Pak has plants in Wales and Germany.
With UK manufacturers having to adjust to life after Brexit, Chris is confident that Nice-Pak is well placed for whatever life outside the EU will bring.
"Like many manufacturers we did stockpile back in March last year when we first thought we were leaving the EU but we realised this wasn't necessary. In addition to our plants here we also have a factory in Germany, so we're well-placed to deal with whatever happens. We could source our material from countries outside the EU and we're confident that we can adapt."
In recent years, concerns about the environment have seen consumers becoming ever more conscious about the impact of the goods they buy. And the 'fatbergs' that block our sewers have been blamed on people flushing wipes down the toilet.
In response to this, Nice-Pak has been leading the way in developing products which are biodegradable and recyclable.
Nice-Pak's Global Sustainability Pledges include a commitment that plastic-free, sustainable products will feature in every future customer proposal. The pledges also feature strong commitments on packaging and brand transparency.
Publication of the Sustainability Pledges at the end of 2019 coincided with the relaunch of Nice-Pak's Sani Hands brand which features plastic-free antibacterial wipes.  Within the space of 6 months, Sani Hands began playing a major part in the fight against COVID and became the biggest selling brand in the hand sanitising wipes market.  By the middle of 2020 a surface-cleaning sister product, Sani Surface, was also making a valuable contribution.
Degenhart says, "We were also very proud in the first lockdown to have created, manufactured and distributed a one-off product that we donated across care homes, hospices and emergency services in the region"
The importance of Nice-Pak's products to public health has been highlighted by the world-wide Coronavirus outbreak, which has led to a surge in demand for the company's Sani-Hands antibacterial wipes.
Pictures by Eden Photography.