Company:
Greater Manchester Chamber of Commerce
As the retail sector opens its doors again, Nicola Payne, owner of Oklahoma Gift Shop, talks to Simon Cronin about her unique Northern Quarter store.
How was Oklahoma founded?
It was 27 years ago, I was in London trying to do styling work for magazines. My boyfriend at the time lived in Manchester and I was coming up quite a lot to see him.
Manchester was a really cool city. Dry Bar was the coolest bar I'd ever seen, and the Hacienda was just incredible. It felt like there was a fantastic underground creative energy going on. I loved the city and just felt at home.
My boyfriend said, "What do you want to do?" I wasn't feeling the whole magazine thing in London was really right for me, but I loved going around all the shops getting products for the shoots and meeting the interesting people who owned them. I said to him "I'd really love to have a shop!", so he said, "Why don't you open one in Manchester?"
What makes Oklahoma unique?
I think it's all about the independence and the personality that you don't get from a non-independent business. We are only one shop. As you start to expand to become a chain, things inevitably get watered down to some extent. The work that I put in to curate the space and the choosing of the products, you simply wouldn't have that labour of love in a non-independent business, that's what's so special about independent businesses and why they should be celebrated and why I think really good bricks and mortar will survive and thrive in the future.
What sort of things do you sell?
We sell a huge variety, work by local makers, prints, colourful treats from all over the world, furniture, recycled and fair trade products, cards, little bits and bobs and trinkets that are great fun, lighting, jewellery, rude silly things. There's lots of colour, coming here is like rummaging through the sort of shop you visited when you were a child.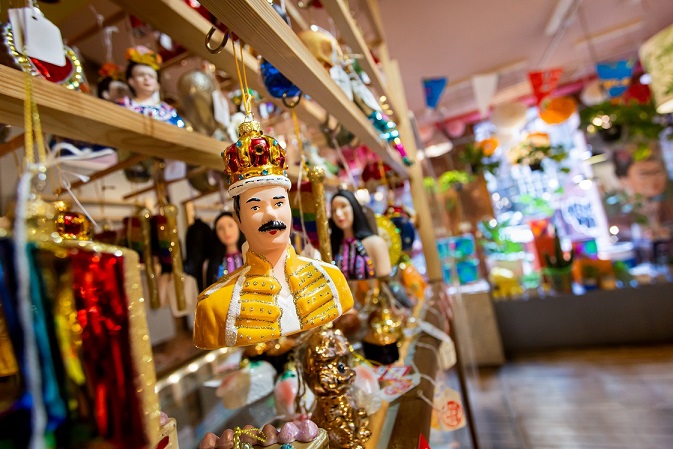 How does your location affect your business?
The location for us is completely crucial. I met a lady at a trade fair who had a shop in Cambridge, and she said, "Oh, you're so lucky you can sell all that crazy stuff. We can't sell that. No one buys that in our shop." It hadn't occurred to me, but I realised that I can sell all the rude stuff. The cooler stuff. You know the brightly coloured and very creative products. I can sell all of that because we have that sort of customer base, which is creative, independent, edgy.
How do you source your products?
I go to trade fairs and go online. Just rooting things out really. I get a huge volume of emails trying to sell me stuff, lots that we wouldn't sell, but occasionally things that I definitely would sell, so I feel like I have to look at everything, but it's kind of exhausting!
Do you believe there is future for bricks and mortar retail?
I think so. I have faith, people still want a real physical experience. They want to go out and go into a space and be blown away, there's a real market for the businesses that can do it and do it right.
But I do think you have to have a website that goes with it, they need to work together and be linked, so we do click and collect now in store. We've been going a long time and have a very loyal customer base. People have grown up coming into Oklahoma. I do have faith, but I think it's going to be very tricky. However much your shop is wonderful, people are still going to be shopping online. In the Northern Quarter there's bars and cafes and other wonderful independents, its a great area of the city centre which really helps.
How has your digital offering developed?
Our website has kept growing through the pandemic, which has been very positive.
The website www.okla.co.uk is enabling us to find customers further afield who love our brand of colourful homewares and all the wonderful eclectic delights that I am managing to source.
I have had more time to focus on buying solely for online and it is working well. We have also branched out into a core range of furniture and bigger items and I feel that the business is taking on a new lease of life!
I can see how we can continue to grow and find new customers through the website, so it's very exciting. I am now in the process of streamlining the shop and the website so they can support each other as we go forward. 
What has the last year been like for your business?
It has been a rollercoaster, along with home schooling two young children, supporting the staff, juggling cash flow, not to mention the general worries for family and friends with covid in our midst, all the rules and regulations and open, then not open, then open, then not open, now open again! Exhausting! The website and the sales there, along with fantastic customer support has enabled us to re invent along the way and further grow our business online, this has been the positive to come out of what was initially a worrying time.
Pictures by Eden Photography.