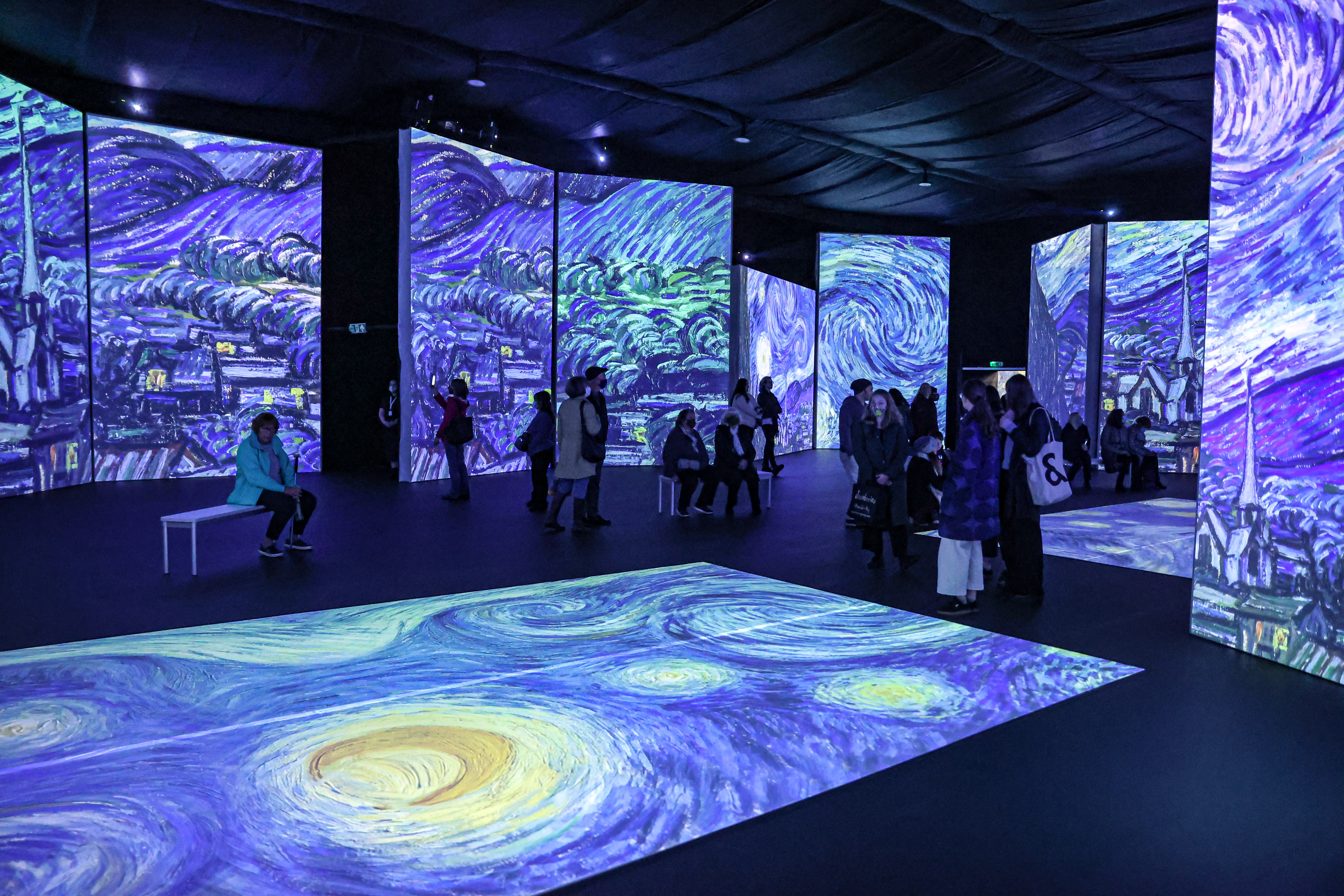 After welcoming over a staggering 110,000 visitors since its launch in October, the world's most visited multi-sensory experience Van Gogh Alive has extended its run at MediaCity.
Originally due to end on 23rd January 2022, the incredibly popular exhibition will now run for an additional month until 27th February 2022.
The extension gives a final chance to see the iconic 'Sunflower Selfie room' and life-sized version walk-in representation of Van Gogh's 'Bedroom in Arles' painting.
The hugely successful experience has been visited by a number of celebrity names including football pundit Gary Neville and actresses Jorgie Porter and Dame Maureen Lipman, who said "No wonder the world has gone mad for this exhibition – it made my heart sing and feet dance."
Created by Grande Experiences, the spectacular, immersive gallery exhibits the life and work of the seminal Dutch artist. Housed in a 17,500ft2 purpose-built venue in the MediaCity, the experience is a feast of sight, sound and even scent. More than eight million people have flocked to see Van Gogh Alive across 75 countries.
Here are just a few reasons to visit before the hit exhibition leaves the North West:
1. Climb into a painting!
A life-sized recreation of, Van Gogh's 'Bedroom in Arles' – one of his most famous pieces – truly brings the painting to life. Visitors can sit on Van Gogh's bed, his chair, use his mirror, and pose for a photo in one of the most recognisable bedrooms in history. Where else does a painting spring out into life sized, touchable, three-dimensional reality?
2. The immersive Sunflower room
If you love a good selfie then prepare yourself for the immersive sunflower room! This mirrored room complete with hundreds of sunflowers provides an incredible backdrop for a selfie which we guarantee will make you the envy of your Insta followers. As well as a bit of fun, it provides you with a great memory of your experience at Van Gogh Alive (and who knows, maybe a new screen-lock image too!)
3. Try your hand at recreating Van Gogh's iconic artworks
Visitors are invited to try their hands at using his techniques and learning his craft to create their own masterpiece in the Art Activity Area. Featuring informative video tutorials, you will get hands-on experience in drawing techniques, perspective, and composition. With three graded tutorials on offer, novices and skilled artists can hone their skills side by side.
Tickets are priced from £22.00 for adults and £15.00 for children, with concessions and school
group discounts available. Find tickets Here