Wigan Business Awards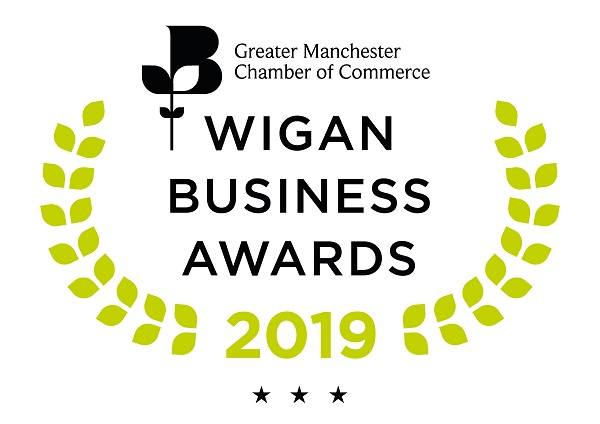 We are delighted to announce that we are now accepting nominations for the Wigan Business Awards 2019, sponsored by Handelsbanken.  Celebrating business excellence across the borough, the Awards highlight the achievements and hard work of a diverse range of Wigan businesses.
The Awards will be presented at the glittering Wigan Business Awards Dinner taking place on Friday 15th November at DW Stadium – more information on this will follow!
**The closing date for entries has now been extended to Friday 23rd August 5.00pm**

Categories and Criteria:
Business of the Year Award – Sponsored by Handelsbanken
This is the premier award in Wigan borough's business year for companies of any size, working in any commercial or industrial sector. The company must demonstrate:
turnover of at least £5 million a year;
a successful track record of excellence and achievement;
measurable growth, increased trading profit, new product/service development or new production techniques.


Family Business of the Year Award - Sponsored by HullJady

This award will recognise and celebrate the unique contribution family businesses have made to Wigan borough's economy, history and culture.  The judging panel will look at areas including:
length of trading and family dynamics;
contribution to the local economy;
special achievements;
contribution to the community and the promotion of the area outside of the region.
Small or Medium Enterprise of the Year Award - Sponsored by Fairhurst Accountants
The award seeks to recognise an SME or enterprise from any industry that has been operating for at least two years and turnover up-to £5 million. Judging criteria will be based on:
innovation;
expertise;
a solid vision for the future growth of the company.
We're Backing Wigan Award - Sponsored by Wigan Observor

This award will recognise any social or community enterprise, charitable organisations with a social purpose and/or a not-for-profit basis.  Entrants must demonstrate:
that it understands the needs of its local community/individuals and show evidence of the positive impact it has had;
an innovative approach to the way it operates;
key objectives and how it meets these;
how it will grow and sustain future development.
Apprentice of the Year Award – Sponsored by Wigan & Leigh College
 This award will recognise an outstanding, dedicated and committed apprentice in Wigan. The nominee must be a current apprentice or someone who has completed an Apprenticeship in the last two years.  Applicants must be able to:
Demonstrate the real value that the apprentice has brought to the business and any impact on the business
Demonstrate the dedication, commitment and capability of the apprentice and the personal benefits they have realised
Identify examples of the success of the apprentice – not only skills-based learning but how they may have also thrived personally.
Applicants: we will accept direct applications from businesses / individuals, or 3rd party   applications from learning providers for the Apprentice Award.
Something to Shout About Award – Sponsored Wigan Metropolitan Development Company (Investment) Limited
This award is for firms who feel they are world class examples of quality in business. Companies need to demonstrate what makes them special - a spectacular client base, superb staff, or an amazing innovation - to showcase our very best local business acumen!  Judges will be looking at:
innovation
staff development
customer service
Start-up Enterprise of the Year Award - Sponsored by Wigan Council

This award recognises a Wigan-based enterprise in any sector which has been trading for less than two years as at the end of August 2019. They will need to demonstrate:
passion, vision and capacity for realising this vision;
sound research and planning, with a focus on future growth;
creative thinking and problem solving;
Young Entrepreneur of the Year Award– N R Barton Accountants and CG Professional Law
Launched in 2017, this award will celebrate entrepreneurs aged 30 and under (as at end of July 2019). Entrants must be able to demonstrate real ambition, drive, skills and vision to ensure their business or businesses succeed and have started to show an impact in the local, regional or global community. Judges will be looking at:
passion, vision and evidence of running a successful business;
a sound business plan for the future development of the company, current performance and projected growth;
challenges faced and obstacles overcome in becoming an entrepreneur ie work/life balance/social pressure
Digital & Creative Business of the Year Award – Sponsored by Cloud Perspective
This new category aims to recognise a business that has contributed to Wigan's digital transformation. The judging panel will look at areas including:
a business that can demonstrate how utilising online tactics or 'Cloud' based tools have contributed to their success and that of their customers;
innovative usage of online platforms e.g. e-learning, web/app development, data management, social and media;
growth and plans for the future;
staff development to bridge the skills gap and generate employment
To enter the Awards:
Click here to download the full list of categories and criteria.
Complete the online entry form here and submit
**Closing date for entries has been extended to 5.00pm FRIDAY 23RD AUGUST 2019**
For further information on the Awards please contact Vicki Kerr, Event Executive at Greater Manchester Chamber e: vicki.kerr@gmchamber.co.uk or phone 0161 393 4342.


Rules of entry:
All entries must be from businesses working within the Metropolitan boundaries of Wigan and Leigh.

Nominations will only be accepted on the official entry form.

The information provided on the entry form must be accurate. The panel of judges may request further supporting information, if required.

Information supplied on or with the entry form may be used in the Wigan Observer and associated Greater Manchester Chamber materials such as programme, website, social media and press releases. However, any information clearly marked as confidential will be treated in the strictest possible confidence and will not be used in any publicity.

Original entry forms will be kept by the organisers. Photocopies will be circulated to members of the judging panel.

The decision of the organisers, sponsors, or any of the judges, is final in respect of all matters concerning these awards, including the interpretation of these rules. The organisers have the right to reallocate an entry if they feel it has more opportunity to win in another category.

All entrants will be expected to co-operate with the publicity surrounding the awards scheme should their entry prove successful.

All entries must be received by the organisers by the closing date.

Participation in the Wigan Business Awards means acceptance of these rules and regulations.