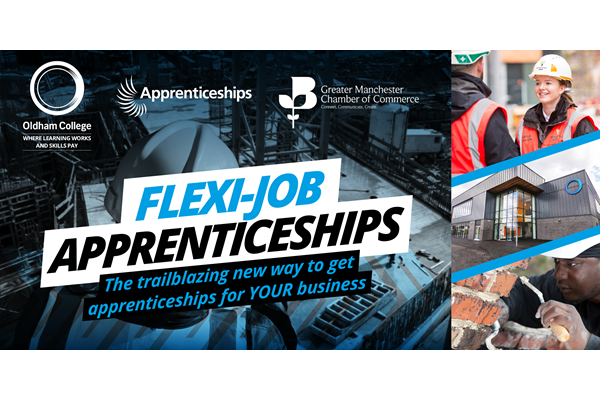 Author:
Greater Manchester Chamber of Commerce
Company:
Greater Manchester Chamber of Commerce
The trailblazing new way to get apprenticeships for YOUR business!
OLDHAM College and GM Chamber of Commerce are excited to launch new Flexi-job apprenticeships to help local businesses in the Construction sector to Build Back Better.
It means apprentices are able to work with up to three different companies on short-term contracts.
This enables them to get the experience they need on a range of different projects with different companies – and without the need for you to provide a minimum 12-month contract.
Here's how it works… You might be a small construction business with a project which would suit an apprentice, but you know would end after four months. In the past, this would mean you could not take on an apprentice for this short period.
Under the new flexi jobs apprenticeship, a learner could complete your four-month project and then get the additional experience they need on other projects with other firms to complete their 12-month minimum duration. 
 This new approach removes the barriers holding back business and apprentices in a sector area with short-term employment models and flexible employment patterns. 
 This way your business can get all the traditional benefits of having an apprentice with the flexibility that suits your needs – and you help a bright young talent to take a vital step on their career leader.
 Oldham College already has a pipeline of pre-screened, 'work ready' and exciting candidates ready to participate in this type of apprenticeship – all that is needed now is your support. They will deal with all the necessary paperwork to make this work for your business and the learners.
Want to know more – or network with other employers?
Come to our GM Chamber (Oldham) Construction Network event at Oldham College's Business Centre on Thursday, May 12. You will also enjoy breakfast and refreshments, plus an opportunity to see the new £9m Construction Centre on campus.