Activity 2022-2023
In 2022/23 we were pleased to run an Export Programme, as part of the extension of the FANBEST project, which will be supporting up to 5 SMEs located in the European Atlantic Area, who will receive up to €10,000 (EUR) worth of funded support.
Meet the selected companies:
Read how the Blue Internationalisation Programme supported Paddy and Limerick Wave here. 
Read how the Blue Internationalisation Programme supported Mappem Geophysics here. 
Read how the Blue Internationalisation Programme supported Henrique, Artur and the seaExpert's team here. 
The programme ran from April 2022 until June 2023, and included the following activities:
Phase 1  - Blue Export Competition  [April -  May 2022]
The Blue Export Competition will offer 5 businesses across the FANBEST key territories a chance to accelerate their international growth. The successful businesses will receive up to €10,000 of funded support including international trade readiness assessment, market research and entry services, strategy planning and a market visit. This competition and programme is funded by the Interreg Atlantic Area. More information on FANBEST can be found here.
The call for applications is now closed.
Up to 10 companies were pre-selected to submit an Export Plan and present it in front of a panel. 5 successful winners moved on to the next phase to help them shape their export strategy and access a wide range of support to go global.
Phase 3 - Access of Export Funded Aug 2022 - April | May 2023]
Companies accessed the following support:
Export Readiness Assessment

Market Identification

Support in shaping their export strategy - access to international trade advisers and coaches.

Training & access to expert advice

Market Opportunities 

Market Research & Partner Finding

Market Visit
You must be an SME as per EC's definition (Less than 250 employees and €50million in turnover). Check the full SME description here

You must have been operating for at least 3 years. If less than that but you believe you have a business case, submit your EOI and a member of our team will be in touch.

International Experience: This is open to businesses who are either experienced, occasional  exporters or new to export.

Your business must operate in the Blue Economy. Sectors include but are not limited to:

Marine Renewable Energy

Use of Marine Resources

Blue Biotechnology

Coastal Tourism

Aquaculture

Your business must be located in the European Transatlantic Area within UK, France, Spain, Portugal and Ireland.  See map below: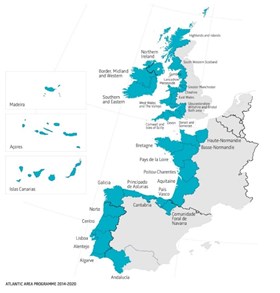 Please email Pauline Puig, Blue SME Internationalisation Programme Lead, at pauline.puig@gmchamber.co.uk. View the Programme's flyer here.
If you would like to be involved in the Programme and offer training, market entry or other services. Please contact the team on the email above.