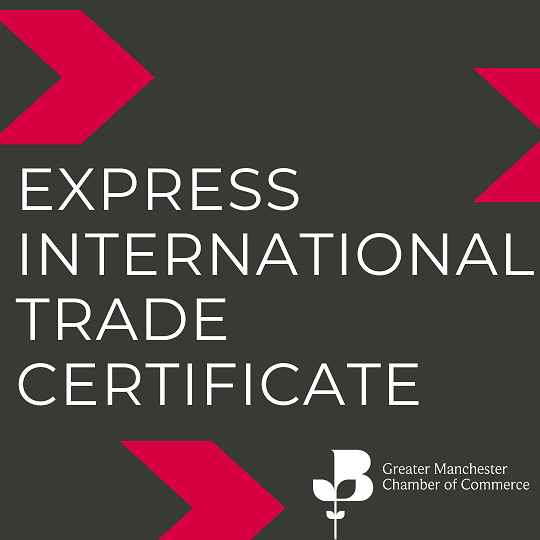 Author:
Greater Manchester Chamber of Commerce
Company:
Greater Manchester Chamber of Commerce
We are very excited to launch our new Express International Trade Certificate Programme which allows delegates to complete the nationally recognised Foundation Award In International Trade accredited by the British Chambers of Commerce in only three days!  
What is it? 
This programme includes the six BCC accredited modules to complete the Foundation Award and focuses on giving you the practical tools essential for thriving in global markets. It allows you to understand your role and responsibilities as an exporter/importer and ensures you have the necessary skills to operate under HMRC procedures and remain compliant at all times. More details about the modules here.  
When? 
On 12th, 13th and 14th March 2024. 
Where? 
The six modules will be delivered at our offices at 151 Deansgate, Manchester, M3 3WD every day from 9:30am to approximately 4pm. Lunch and refreshments will be provided.  
Who? 
This programme is suitable to individuals engaged in international trade, regardless of experience, and will be relevant to beginners as well as experienced professionals seeking to refresh their export/import knowledge. 
Candidates who successfully complete all six modules will be awarded the Foundation Award in International Trade and will be invited to an official presentation at our annual International Trade Networking event! Register here.  
Don't miss out Quote EXPRESS15 to access our EARLY BIRD offer (15% off) if you book before 22nd December 2023.  
To get the offer, please email exportbritain@gmchamber.co.uk