International Business Opportunities
We work closely with the UK's Department for International Trade, Foreign Embassies, Overseas Inward Investment & Trade development agencies, international chambers of commerce, and many other business support organisations to raise awareness of the wide range of export, import and investment opportunities across the globe. 
To check the latest live opportunities and business leads, click here
You can search by:
Sector

Country/Region

Type of lead (e.g., export, import, overseas partnership, investment)

Expiry Date
If you are interested in an opportunity, please email us at exportbritain@gmchamber.co.uk with the subject line: GMCC Biz Opps & number of the specific opportunity. (IT#).  
If you are a Chamber Member, we can also support you in the process of expressing interest for any of these opportunities and following up should you not hear from our connections.
FEATURED BUSINESS OPPORTUNITY -  SUPPLY CHAIN OPPORTUNITIES FOR BRITISH COMPANIES
Meet leading manufacturer and exporter of home textiles next month in Manchester.  Save valuable time and money by meeting a potential supplier with confidence.   For more information click here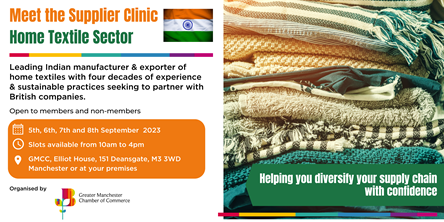 AID FUNDED BUSINESS OPPORTUNITIES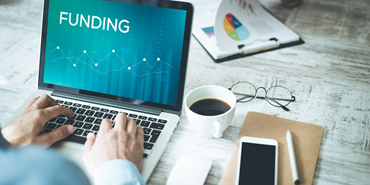 In 2021, Official Development Assistant (ODA) also known as 'Aid' reached over USD$178bn and has been growing year on year.  ODA is defined by the OECD as government aid that promotes and specifically targets the economic development and welfare of developing countries, and this is given via loans, credits and grants.  Aid Funded opportunities are commercial opportunities created by development and humanitarian aid programmes funded by multilateral & bilateral development agencies, development banks and the United Nations to mention but a few.
Check our latest bitesize session covering the basics of Aid Funded business.  We are pleased to announce the Chamber is working with a chamber member, Developmentaid, to help our members capitalise on the commercial opportunities brought by these aid development programmes.    Members can get a 10% discount when signing up to any of DevelopmentAid membership packages.   For more information and discount code, please email exportbritain@gmchamber.co.uk.
The opportunities showcased are sourced from third parties partners and whilst the Chamber does make every effort of ensuring the information provided is up to date, we cannot accept any liability for inaccuracies, timelines, completeness of any information regarding these opportunities.