Arab-British Certificates of Origin
CALLING UK EXPORTERS - HAVE YOUR SAY!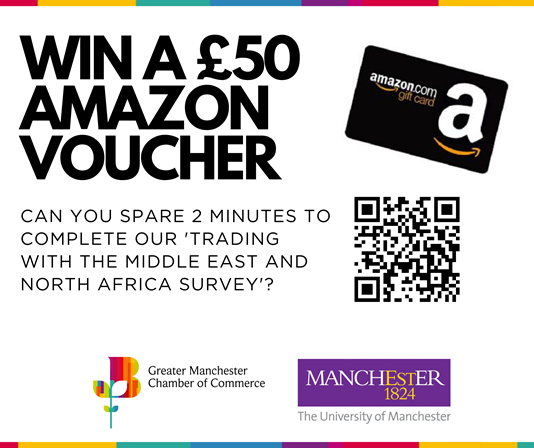 As exports to the Middle East and North Africa, and more specifically GCC countries in the period between 2016 & 2020 have registered year on year decline for the North West & Greater Manchester region and has been impacted harder than other UK regions. The Chamber has joined forces with the School of Social Science at the University of Manchester to conduct a in-depth join research to understand the roots of recent export declines to the region.  Help us shape future Trade Agreements, policy and export support by completing this short 2-min survey and get the chance to win a £50 Amazon Voucher.
---
As of 1st January, we do not envisage any changes to the way we issue Arab-British Certificates of Origin.  So the below information stays the same.
Arab-British Certificates of Origin are used as documentary evidence to show where goods being exported from the United Kingdom to Arab countries were originally manufactured. GMCC is an agent of the Arab-British Chamber of Commerce, as agents we can liaise with Embassies on your behalf to obtain certified and legalised documents. They can be required for different reasons such as customs clearance or payment via Letter of Credit. It can also be required by Customs in the country of import to determine tariff rates.
Arab documentation can be used in the following countries:
Algeria

Bahrain

Djibouti

Iraq

Jordan

Kuwait

Lebanon

Libya

Mauritania

Morocco

Oman

Palestine

Qatar

Saudi Arabia

Somalia

Sudan

Syria

Tunisia

UAE

Yemen
How do I apply for an Arab Certificate of Origin?
If you have never completed documentation with GMCC before you will need to complete a Formal Undertaking. In order to obtain certified documents it is necessary for us to hold your signature on file. This Formal Undertaking must be renewed annually. Please ensure you have read our Standard Rules.
Applying for Arab Certificates can be done electronically at www.e-zcert.com or manually by requesting a certificate from GMCC. You can find more about our electronic service here.
Please click here to download our guide to completing Arab Certificates of Origin