Export & Import Documentation
*** Please check the latest changes to our Export Docs services ****
Re-opening of Elliot House Drop off/Collection from 14th September 2021, Read details!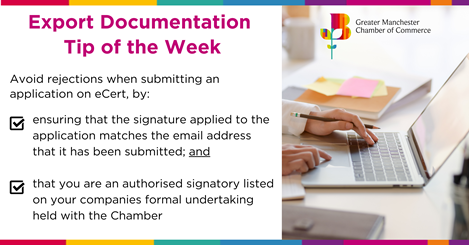 Greater Manchester Chamber is the leading provider of Export Documentation services in the North West. In Greater Manchester, Export Documentation Services are accessible at our office in Elliot House and at our base at The World Freight Terminal at Manchester Airport. You can also apply for a number of documents online through e-z cert.
The Chamber works with over 2,000 exporters a year, processes circa 38,000 documents for approximately 29,000 shipments contributing circa £787million to the local economy (2019/20 Data)
We can provide advice on worldwide export documentation requirements and trade regulations. As a Chamber member, you can get up to 50% discount on many of our documentation services.
Certificates of Origin (Non-Preferential Market Access)
We are an Accredited Chamber of Commerce affiliated to the International Chambers of Commerce/World Chambers Federation International CO Accreditation Chain.
Movement Certificates  (Preferential Market Access)
GSP Form A - Trading with Developing Nations
Are you exporting goods that require Export Health Certificates?  Let us connect you with a trusted approved supplier and chamber member.  Email us at exportbritain@gmchamber.co.uk asking for an introduction.
Electronic Documentation Services
• E-z Cert
Useful Downloads
Useful Links and Resources
Members and non-Members of the Chamber can use our documentation Services.
Members of the Chamber, however, can get up to 50% off on most of our documentation services. 
So if you are thinking to be a regular user, you will save money by joining membership and you will also access a wider range of benefits, to learn more about these, please click here.
The below are the key steps to follow if you wish to use our certification and legalisation services:
Make sure you read and understand our Standard Rules 

Complete and submit to us a signed copy of a Formal Undertaking. Please ensure you send a physical copy(ies) to our Airport Office at Room 7, Building 308, World Freight Terminal, Manchester Airport M90 5PZ and you can also send scanned copies to exportdocs@gmchamber.co.uk. Please note you must renew your Formal Undertakings annually.

Whilst we offer a manual service, we are encouraging companies to register on our electronic platform you can process documents electronically (express services) which can save you valuable time in the processing of your documents.  You can register here