Online Documentation Service - eCERT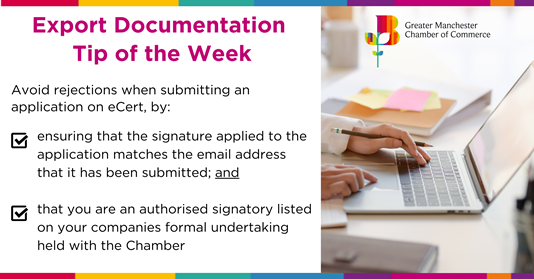 eCert is a service offered by GM Chamber which enables exporters to obtain certain export and import related certificates online. It can be used to obtain UK and Arab British Certificates of Origin and EUR1s for instance.
eCert is also used to certify other commercial documents such as commercial invoices and packing lists just to mention but a few. eCert is approved by the British Chambers of Commerce as being compliant with regulations and data security requirements.
The eCert system has 2 submission options:
Standard allows traders submit their application online and then the chamber certifies,  prints and stamps the certificates on your behalf and then post them out to you, or alternatively you can collect in either of our offices.  Check opening times and contact here

Express allows traders to print out their certificates from the comfort of their own offices once the certificate has been approved by our team, helping you save you significant time and money in postage.  Most countries accept electronic signatures which enables you to opt for this submission option.
What countries do not accept electronic stamps therefore you must opt for an standard application:
For EUR1s - Preference Documents
Chile

Egypt

Iceland

Israel

Lebanon

Liechtenstein

Mexico

Norway

Serbia

Switzerland

Tunisia

Ukraine
UK CoOs - Non Preference Documents
All countries accept e-signatures and e-stamps.  However, please do check with your customer what they require.
Arabs CoOs - Non Preference Document
Certification can be made as an express application

However, if you need certification AND legalisation, you can only send it as a standard application.
Follow this quick 3-step process to set up an account with us:
Make sure you read and understand our Standard Rules & Certification Service Levels

Complete and submit to us a signed copy of a Formal Undertaking & specimen of signatures . Please ensure you send a physical copy(ies) to our Airport Office at Room 7, Building 308, World Freight Terminal, Manchester Airport M90 5PZ and you can also send scanned copies to exportdocs@gmchamber.co.uk. Please note you must renew your Formal Undertakings annually.

Register in our eCert platform and submit your document(s) electronically.  Whilst we offer a standard service (chamber prints and post documents to you), we strongly recommend companies to use the express service when available (most countries), as this will save you posting time and money. 
If you are unsure how to apply for documents via eCert, there are some online tutorials available here or alternatively book a one-to-one session with a member of the team to help you with your set up and first application.   Email our team at exportbritain@gmchamber.co.uk for more information.