UK Certificates of Origin
CALLING UK EXPORTERS TRADING WITH MIDDLE EAST AND NORTH AFRICA REGION  - HAVE YOUR SAY!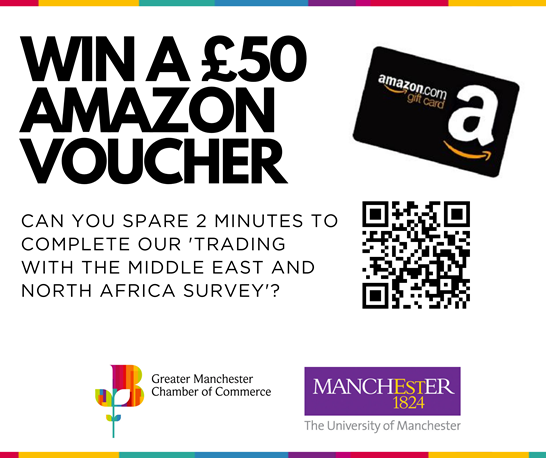 As exports to the Middle East and North Africa, and more specifically GCC countries in the period between 2016 & 2020 have registered year on year decline for the North West & Greater Manchester region and has been impacted harder than other UK regions. The Chamber has joined forces with the School of Social Science at the University of Manchester to conduct a in-depth join research to understand the roots of recent export declines to the region.  Help us shape future Trade Agreements, policy and export support by completing this short 2-min survey and get the chance to win a £50 Amazon Voucher.
---
From the 1st January 2021 the Chamber will no longer issue the European Community Certificates of Origin (ECCOO) as the UK is no longer part of the EU Customs Union and single market. In accordance with the relevant international convention and with the approval of the Department of International Trade these will be replaced with the UNITED KINGDOM CERTIFICATES OF ORIGIN (UKCOO). The Chamber has in stock the UKCOOs available for you to order.
UK Certificates of Origin are issued by Chambers of Commerce and used as documentary evidence to show where goods being exported from the UK were originally manufactured. This document is used for non-preferential purposes, and required for different reasons such as:
Customs clearance, in events where the importing country may have in place quotas, anti-dumping policies, sanctions and more.

Customs authorities requirement to determine any tariffs rates

Payment via Letter of Credit
HOW DO I APPLY FOR A UK CERTIFICATE OF ORIGIN?
There are two ways to complete a UK Certificate of Origin it can be done manually and online. If you have never completed documentation with GMCC before you will need to complete a Formal Undertaking. In order to obtain certified documents it is necessary for us to hold your signature on file. This Formal Undertaking must be renewed annually. Please ensure you have read our Standard Rules.
Applying for UK Certificates of Origin can be done electronically at www.e-zcert.com or manually by requesting a certificate from GMCC. You can find more about our electronic service here.
Place on Order
£1.50 per certificate inc. postage (1st Class) and a minimum order of 20 per pack (£30+VAT).  If you wish special or recorded delivery (this will be on additional).

Please email exportdocs@gmchamber.co.uk to place your order.

We will no longer be charging a "pre-paid" fee, charges will be payable on presentation for certification. Check our latest prices here
Exchange of ECCOOs
If you have a stock of pre-paid ECCOOs please return these to the Chamber and we will exchange them with the new UKCOOs.

Return to: GM Chamber, Room 7, Building 308, World Freight Terminal, Manchester Airport M90 5PY

Please note the cut of date for exchange of these certificates will be 31 March 2021.
Standard Applications via ecert.
If you currently apply for your Certificates of Origin via our on-line platform ecert using the standard method, we will automatically print your application on the UKCOOs.
CHANGES TO THE CERTIFICATE OF ORIGIN
The format has stayed the same apart from the title of the certificate is now United Kingdom Certificate of Origin.  Only two of the boxes will have a significant change.  All other information such as descriptions the origin declaration and the submission of foreign origin evidence will remain the same.
Box 1 – Consignor
This must always show a UK relationship with the shipment.  The full UK company name and address followed by United Kingdom in full is to always be placed in this box.  Applications can still be made on behalf of a non- UK company by inserting after the UK exporter  "for and on behalf of" an overseas company. The name and address of an EU multi-national company on its own will no longer be allowed in this box.
Box 3 – Country of Origin
We will cease to use the wording "European Community" or "European Union". For goods of UK origin you will just state "United Kingdom".  For goods of UK plus foreign origin – you will always place United Kingdom first followed by all other countries in alphabetical order.  You can no longer refer to any origins in the EU as a bloc you have to state the actual individual countries ie: Germany, France, Spain.
Q - What if I have issued an ECCOO and the goods arrive after the 31st December at destination? 
A - If your goods have been shipped prior to the end of December 2020 then your ECCOO should be accepted at destination.
Q - What if I need an amendment to my ECCOO?
A - We can still use our alteration approval stamp on your ECCOO so we can still authorize amendments
Q - What if my Letter of Credit refers to an ECCOO?
A - We cannot issue ECCOOs after the 31st December 2020 so you will have to have an amendment made to your L/C.
Q - What if my ECCOO has been lost, destroyed or spoilt ?
A - After the 31st December 2020 we can no longer issue ECCOOS your replacement will be on the UKCOO you can still add the replacement clause in the remarks box referring to the previous cancelled COO
Q - What if my ECCOO is still in an embassy being legalized?
A - If your ECCOO is still in an embassy being legalized we cannot guarantee that this will be accepted at destination unless the goods have already been shipped prior to the 31 December 2020.
Q - What if I print an ECCOO in error after the 31st December 20 instead of the UKCOO?
A - They will be rejected at destination.
Q - Can I back date a Certificate of Origin after 31st December 2020?
A - No we cannot backdate COOs to a date in 2020.
Q - Will this effect the Arab British Certificates of Origin?
A - No the ABCC COOs remain unchanged
Q - Which countries I can use UK Certificates of Origin or EUR1s with?
A - Using your commodity code(s), check the 'UK's Government How to Export tool' to verify what origin documentation is needed when exporting to an specific country.
Q- What are the prices for your services?
A - Please check our latest pricing list here
Download Guide on changes here
Email our Export Docs team at exportdocs@gmchamber.co.uk or call 0161 393 4314.